Called A33230, it comes in 3 x 2.9 x 1mm 5pin SOT23-W package.
Although the die inside is able to sense in three orthogonal dimensions, it has two signal paths and devices are factory programmed to sense only in a pair of dimensions: XY, XZ or YZ. Also factory-programmed is a choice of sensitivity: 300 or 1,000Gauss full scale.
External CORDIC calculation can be used to turn the device into an angular sensor, extract angular information when the two channels are used to provide sine and cosine of the applied magnetic field.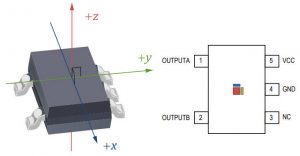 "The IC incorporates vertical and planar Hall-effect elements with sensing axes that are orthogonal to one another, providing 90° phase separation. This phase separation is inherently independent of magnet pole spacing and air gap," said Allegro.
Each signal path includes: sensor, front-end amplifier, anti-aliasing filter, bandpass filter and output amplifier.
Quiescent output voltage is half Vcc, and typical gain is 1.2mV/G for the 1,000G option and 3.6mV/G for the 300G option. Typical channel mismatch is ±3%, with ±1% non-orthogonality.
Operation is across -40 to 150°C  and 4.5 to 5.5V. Consumption is typically 7mA (10mA max), and bandwidth is ~50kHz.
Applications are foreseen in factory robotics, windscreen wipers and in-cabin motors.
The A33230 product page is here