It's aimed at IoT developers and engineers, and it combines Seeed's Studio SenseCAP gateways and sensors with the Machinechat JEDI Pro Seeed Studio Edition software. The aim is to quickly deploy commercial IoT LoRa projects in days rather than weeks.
Hardware software
Features of the hardware include support for LoRaWAN protocol (Class A), transmissions of up to 10km line of sight, support for multiple ISM bands: EU868, US915, AU915, AS923, industrial grade protection (IP66 enclosure) and support for Ethernet backhaul with cellular comms as an option.
For the software side of things, the JEDI Pro Seeed Studio Edition takes data from Seeed Studio's SenseCAP LoRa sensors using the Seeed Studio data collector (Chirpstack installation required). And you configure dashboards to monitor or visualise real-time and historical data with line, area, tile, radial, and data grid charts. There is a browser-based user interface with SSL support and role-based user management.
"Wireless connectivity technologies like LoRaWAN are leading the way for mass adoption of IoT, and we are excited to inspire developers and systems integrators around the world with many new possibilities available to them with these solutions," said Robbie Paul, director of IoT business solutions at Digi-Key.
Possible applications cover asset tracking, industry 4.0, smart metering or smart agriculture. The attractions of LoRaWan for IOT are the low power consumption, wide geographic range and potentially lower infrastructure costs.
"By bundling our award-winning SenseCAP LoRaWAN hardware solutions with Machinechat's innovative and easy-to-use software, Digi-Key customers worldwide will be able to build and deploy robust, private LoRa IoT deployments in days versus weeks," said Eric Pan, CEO of Seeed Studio."
According to Digi-Key, users can move IoT projects from field pilot to deployment with one set of hardware and software, while also being able to easily add on additional hardware at a later time. The idea is that users can focus more on configuring, rather than coding, to get IoT projects deployed quickly, with no monthly fees and no need for the cloud.
LoRaWAN
You can read a whitepaper, How System Integrators and Developers Can Implement Affordable, Secure LoRa IoT Solutions Quickly, here. It includes a comparison of popular wireless technologies shown below.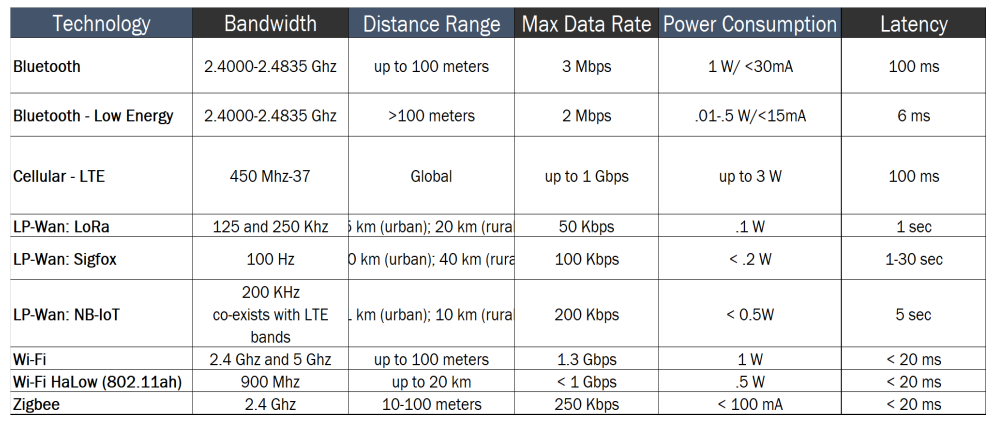 You can read more information about the LoRaWAN-in-a-Box online.