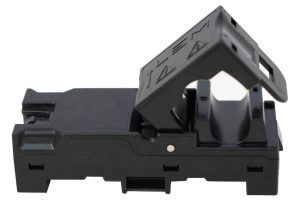 Called the HTRS-series, they will be available in three current ranges: 10A, 30A and 50A, with peaks up to twice the nominal value, and have a 6kV insulation test voltage.
Size is 72 x 29 x 26mm and mounting adapters, including DIN rail, are available for retro-fits in existing applications. They are light at 35g.
They are split core (photo) for easy installation and are 2% accurate at +25°C while operating over -40 and +85 °C.
Output is standard 4-20 mA and -3dB bandwidth is 1kHz combined with a rise time of 10μs at 90% rated current.
A separate power supply is needed – the input accomodates both 12 and 24Vdc (11.5V min), needing up to 50mA.
A novel (patent pending) primary circuit keeps maximum deviation caused by neighbouring conductors with the same current typically around 0.3% and positioning error of the primary conductor is negligibly small compared to previous solutions, according to the company.
LEM told Electronics Weekly that a double U-shape core design it what reduces primary cable positioning error – close to zero, it said, and that the architecture is open-loop system, using asics for temperature and offset  compensation.
"The current sensor has been designed to the latest standards for railway technology and industry, including UL and UKCE, and is based on materials that meet all relevant fire protection requirements for railway applications – a CE certificate is available," it said. "The transducer complies with the International Railway Industry Standards [IRIS]. Like all LEM current transducers for railway applications, HTRS series comes with a warranty of five years."
Applications are foreseen in point machines, crossing gates and signalling systems, as well as industrial applications such as process automation, or dc current measurement in solar power installations.