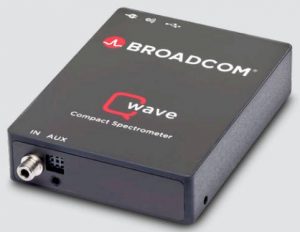 "Broadcom's compact spectrometer modules are suitable for industrial sensing and mobile analytics in numerous applications," according to Farnell. "Field and lab-based engineers can now access spectrometers from stock for same day shipping."
The USB-connected modules cover ultra-violet, visible and near-infra-red – alone or in various combinations.
The parts Farnell is handling include:
Qneo infrared spectrometer is 50 x 60 x 19mm and has an uncooled 256-element InGaAs sensor array for 8nm resolution between 950 and 1,700nm.
The Qmini range has six models, each  64 x 42 x 14.5mm, covering various spectral spans within 190 to 1,100nm. For example, the 'wide visible' version covers 225 to 1,000nm at a resolution of 1.5nm.
The visible version of the 90 x 68 x 19.5mm Qwave range (photo), covering 350 to 880nm. Its 3,648pixel linear CCD detector allows a resolution of 0.6nm.
"Broadcom has achieved high performance in a small form factor," said Farnell head of test James McGregor. "Customers can take accurate measurements for a range of industrial, mobile, biomedical and scientific research applications."
Point-of-care medical diagnostics use is foreseen, as well as process control, water quality monitoring and ramen spectroscopy.